Bitcoin reached its new-all time high of $42,000 on the 8th of January. The exhilaration associated with the massive bullish was high and certain proponents expected the price to move above $55,000 by the end of Q1 2020. However, after its 2nd re-test at $40,000 on the 14th of January, BTC dropped all the way down below $30,000 over the past day. While the prices may have gone the $30k margin at press time, Bitcoin might be entertaining a radical shift in the market.
Bitcoin loses $36.5k and $33k resistance
According to the analysis, BTC dropped down to $28,880, leading to a 31% drop since the new all-time high value. In doing so, Bitcoin failed to uphold its position over a couple of important support/resistance.
During the past week, BTC struggled to position itself above $36.5k, and over the past 48-hours, the asset has dropped below $33k as well. After dropping down to $29,000, many expected the price to attain another bullish rally, but it is far from certain as on-chain metrics indicated a different scenario.
Willy Woo suggested $29,000 as Bitcoin floor price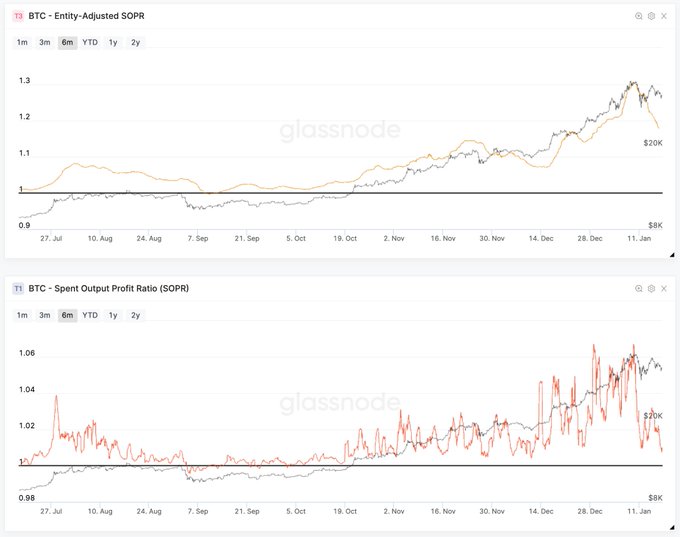 Last week, popular on-chain analyst Willy Woo suggested that the reset for the Bitcoin SOPR chart is likely to be followed by a price correction that will shake out weak hands off the market. In terms of finding a bottom, Woo indicated that the worst-case scenario would entertain BTC at a 'floor price' of $29,000.
His prediction has held true at press time, but Woo added that even after the asset drops down to $29,000, Bitcoin will rally right back up. Capital injection from HODLers has been strong, considering it has been a Whale Cycle.
Is the bottom definitely in?
According to the CryptoQuant CEO, it might not be the case. In a recent Twitter thread, Ki-Young Ju brought attention to the current Coinbase Premium. The analyst believed that whenever BTC has breached a fundamental resistance like $20k or $30k in the past, huge spot inflows from high net individuals have been observed.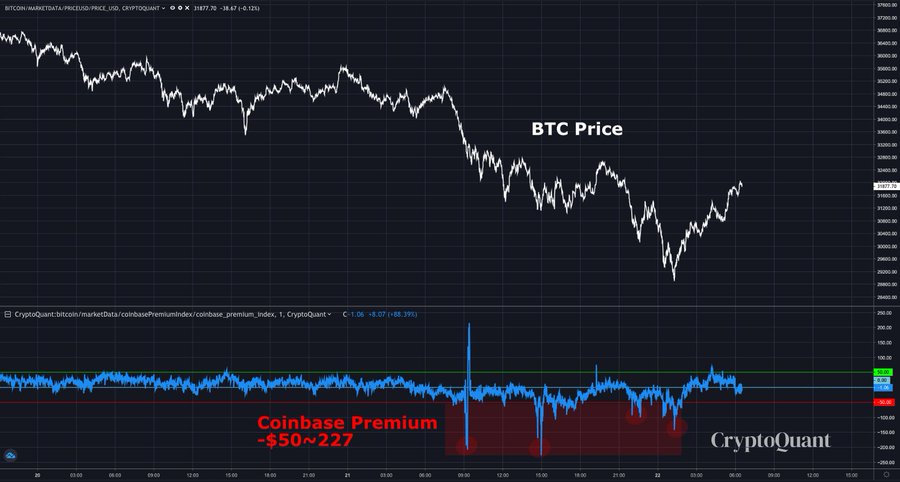 Right now, the investors appeared to under a selling spree and there was not enough premium at press time. It is also important to consider that, Bitcoin's longs and shorts contract have largely neutralized, indicating a drop in interest from the derivatives market.
Verdict
From a market structure prespective, for Bitcoin to maintain a bullish momentum, its consolidation above $31.5k-$32k would be essential in the next 48 hours. However, failure to do so would improve the possibility for another bearish leg down, as Bitcoin may retrace down to $25,000 in the charts.