Leading altcoin Cardano's price saw a massive plunge of 70% in more than 5 months amidst extreme market volatility. The popular asset price swung wildly in tandem to the broader market, charting a new all-time high of $3.10 last September to $0.85 on February 2022 and back to $0.92 at the press time.
Despite the grim outlook on the price front, on-chain data platform Santiment observed that shark addresses holding 10k to 100k ADA have historically done a pretty decent job at calling tops. In addition to that, over the past 5 weeks, these addresses have added nearly 6% more of the overall ADA supply.
Santiment then takes a deep dive into some key metrics to see if the 7th largest cryptocurrency by market cap is heading for a trend reversal.
What does Cardano's on-chain indicators reveal?
In terms of Whale Activity, the report observes that the cohort of addresses holding between 10,000 to 100,000 has been growing rapidly.
However, the group above that holds between 100,000 to 1,000,000 ADA tokens has dumped from 37.0% to 17.7% of the supply held in just the past three months. The report then says that these two cancel each other out, and create a mostly neutral indicator.
Next, the data looks into the Funding Rate which notes that traders are shorting at their highest ratio in a month as evident in the total average hourly funding of Cardano on both FTX and DYDX.
Lastly, the report takes into consideration another key indicator which is the Whale Transaction Count. The number of transactions amounting to $100,000 or more can play a major part in indicating price turnarounds. As illustrated in the chart below there are massive spikes in whale transactions that mark either major tops or bottoms.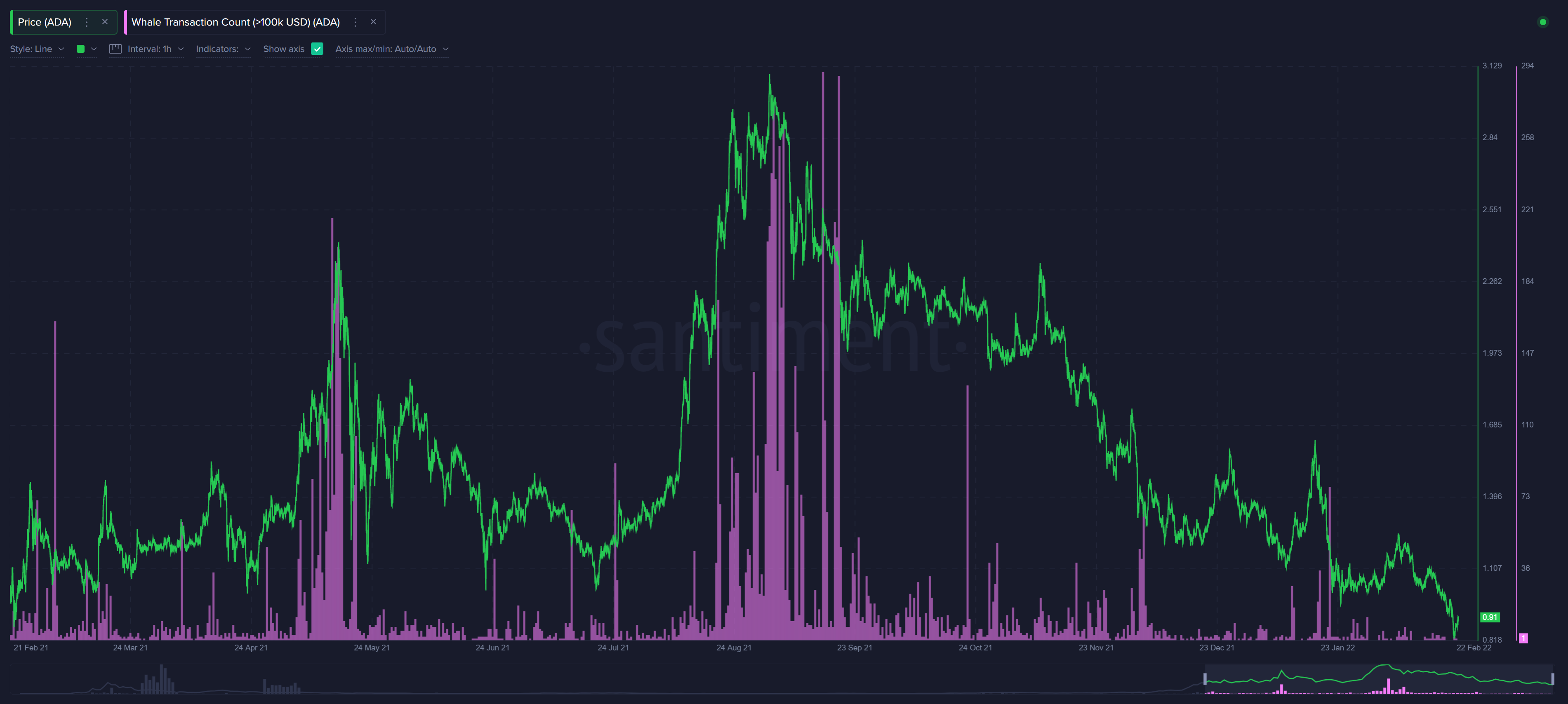 As for ADA right now, not a lot appears to be happening, the report added. Further, it stated,
"We see that the major clusters of whale transactions both happened right at local tops in both May and at their all-time high in September. Look for an uptick in these transactions as some great alpha that Cardano will see a long-term turnaround."