Bitcoin, the king crypto is currently trading over $10700 against USD with a surge of 1.78 percent within the past 24Hrs. In contrast, China has been secretly struggling to stabilize its national currency, Yuan. The 30 days comparison of these two currencies (Bitcoin and Yuan) states that the former is countering the latter one.
Inverse Correlation Reaches Record as China's Currency Weakens – Report
In the latest analysis, Bloomberg finds that Bitcoin is going in the exact opposite direction of Chinese Yuan. While the national currency of China slumps to record low, people seek to be around the Bitcoin. In fact, the 30-day correlation research by Bloomberg media states, "Bitcoin reached a record inverse relationship in the past week" – subsequent graph has been attached below.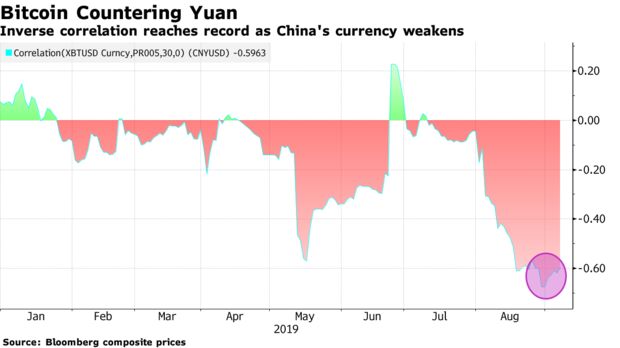 On the one hand, China is too close to debuting its new cryptocurrency, which reportedly bears similarities of Facebook's Libra; on the other hand, China's own national fiat currency is weakening further. In late August this year, China's yuan has sunk by almost 4 percent, reached its lowest point in over 11 years.
According to Dr. Garrick Hileman who is a Blockchain.com's research director and also a researcher at the London School of Economics, "Bitcoin was traded at the premium price in exchanges like Huobi which was founded in China and a crypto trading platform that primarily serves Chinese crypto enthusiasts." On a further explanation, he said;
"There's corroborating evidence for this, in that people in Asia were paying more for Bitcoin than elsewhere when the yuan fell,"
Hileman on a continuous note elaborates that the inverse correlation between Bitcoin and Yuan isn't the first of its kind though, it appeared in April and May too. He mentioned the reason behind such circumstances is ongoing US-China trade relations.
China's New Cryptocurrency Aims to Protect China's Monetary Sovereignty
However, as per the latest statement by the Chinese Central bank's Mu Changchun, the country is launching its new cryptocurrency to protect the legal currency, Yuan. While the new digital currency bear similarities to Facebook's Libra, he claims that the country's digital currency can be used without an internet connection just like paper notes.
Moving towards the crypto market, cryptocurrencies at the moment is flourishing with quite positive figures. Bitcoin's upward graph has likely influenced other cryptocurrencies to surge with the respective percentage within the past 24 hours.
Notably, among top 10 cryptocurrencies; Ethereum is up with 2.17 percent, Ripple's XRP is surging with 0.12 percent, Bitcoin Cash 2.52 percent, Litecoin 2.18 percent, Tether 0.07 percent, Binance Coin 6.27 percent, EOS with 1.43 percent, Bitcoin SV 0.95 percent and Monero (XLM) is climbing with 4.37 percent within the past 24 hours respectively.
Disclaimer: The presented information is subjected to market condition and may include the very own opinion of the author. Please do your 'very own' market research before making any investment in cryptocurrencies. Neither the writer nor the publication (TronWeekly.com) holds any responsibility for your financial loss.
Never miss our daily cryptocurrency news, price analysis, tips, and stories. Join us on Telegram | Twitter or subscribe to our weekly Newsletter.