Ethereum will be attaining a new yearly high for 2020 above $600 very soon. Currently, at $590, the performance is off the charts and the largest altcoin coin is starting the current week on the right foot. However, keeping price aside, ETH's on-chain properties were taking a divisive turn as well.
Ethereum is No-Longer driven by Whale Wallets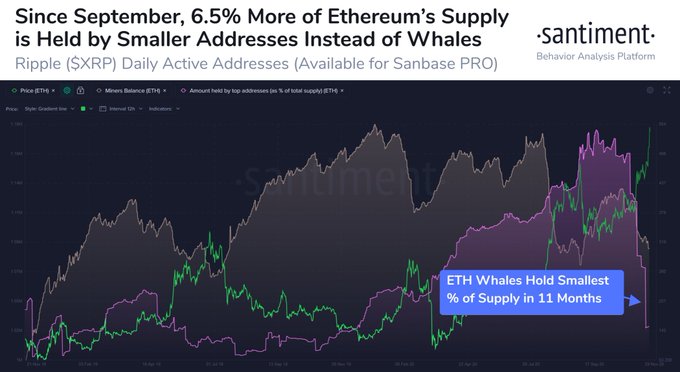 Santiment, a cryptocurrency analysis platform reported over the past day that Ether's present price hike is coupling with an increase in supply distribution.
As indicated in the chart above, The percentage of Ether held by the top 10 whale addresses has decreased down to its 11-month low. A couple of months ago, the number of Ether held by the top 10 whale wallets was close to 18.6% but at press time, it has dropped down to 12.1%.
Additionally, it was also mentioned the miner balance has held less than 80,000 ETH since July, which meant circulation has remained consistent.
Over the past couple of months, Ethereum has really taken a massive bullish turn and the fact it was not down to whale traders, meant more and more users were entering Ethereum's ecosystem.
🚨 Weekly On-Chain Exchange Flow 🚨#Bitcoin $BTC
➡️ $5.9B in
⬅️ $6.2B out
📉 Net flow: -$234.7M#Ethereum $ETH
➡️ $1.5B in
⬅️ $1.5B out
📉 Net flow: -$27.6M#Tether (ERC20) $USDT
➡️ $3.4B in
⬅️ $3.3B out
📈 Net flow: +$99.0Mhttps://t.co/dk2HbGwhVw

— glassnode alerts (@glassnodealerts) November 23, 2020
Another particular factor that is important to note is that ETH continues to have better on-chain exchange flow than Bitcoin, indicating a better organic market for the asset.
Implied Volatility is on the rise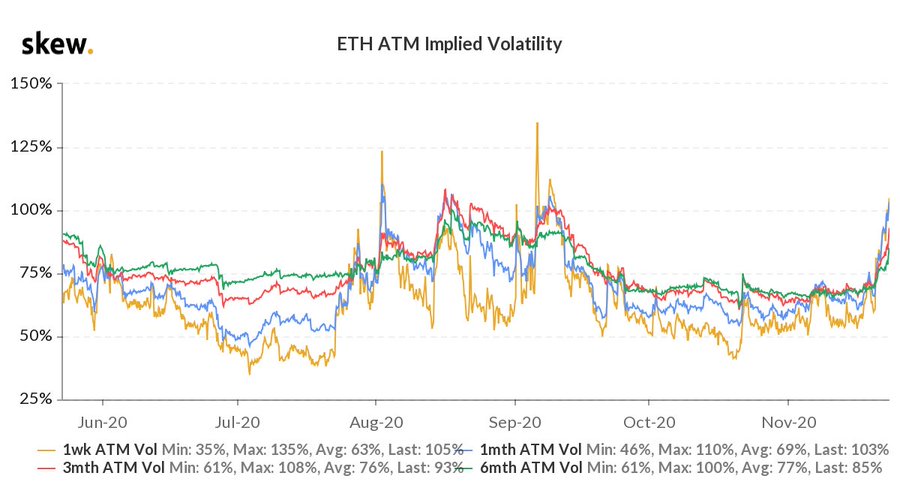 With an increasing valuation at the moment, Ether is currently exhibiting a period of high implied volatility as well. Implied Volatility pertains to the range at which the price might fluctuate in the chart over the next few days, and with the looks of it, Ethereum has a green-signal at a new yearly high.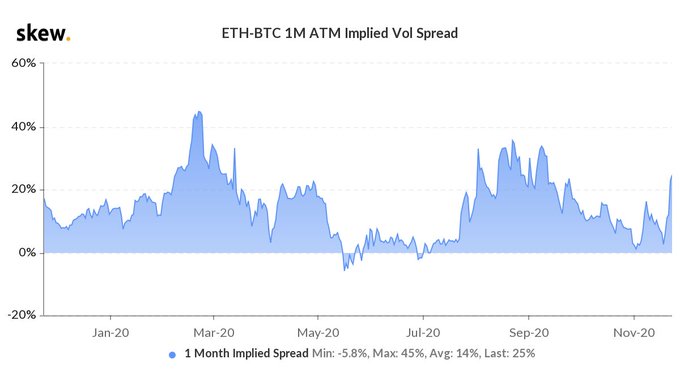 Its correlation with Bitcoin pictured a similar sentiment. While Bitcoin's price has raised itself in value too, ETH can be observed to take a jump above BTC at the moment. If the market chart is broken down to Ethereum's immediate daily resistance, it lies above the $800 mark.
Will Ethereum touch $800 by December-end?
While the jury is open for discussion, the collective market may see a period correction before that. At the moment, Bitcoin is under its longest bullish period in 2020, entering its 7th bullish week on the trot.
Such a parabolic rise is bound to blow up some time, leaving the rest of the market a little under the weather as well.