Improving hodling sentiment among Bitcoin users and investors has been instrumental in this year's bullish trend discussion of Bitcoin. A significant increase in BTC accumulation over the 2020 period has been identified, and the market has suggested that the narrative of Bitcoin as a safe haven has only gone up since March.
Although Bitcoin currently exhibited a rather bearish outlook dropping below $9300, Rafael Schultze-Kraft indicated that the confidence of Bitcoin investors may have long-term, bullish implications for Bitcoin.
In a recent twitter thread, Kraft took the assistance of various charts and illustrated the resurging trend of 'hodling'.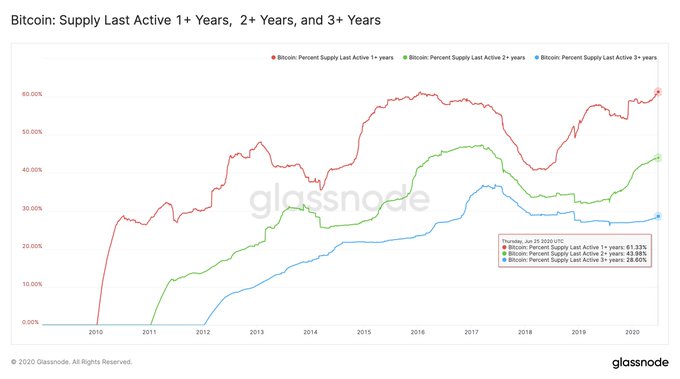 The Glassnode CTO indicated revealed that 61% of the total circulating Bitcoin supply has been dormant over the past year, marking an all-time high. From that group of 61%, 44 percent hasn't moved in 2 years, and close to 30 percent of the supply hasn't been active in 3+ years.
Speaking about another metric, Kraft said,
"The average Coin Days Destroyed (= transacted bitcoin volume times the number of days since coins were last moved) per year has been decreasing and is at its lowest level since 2016. Lower CDD = more long-term hodlers."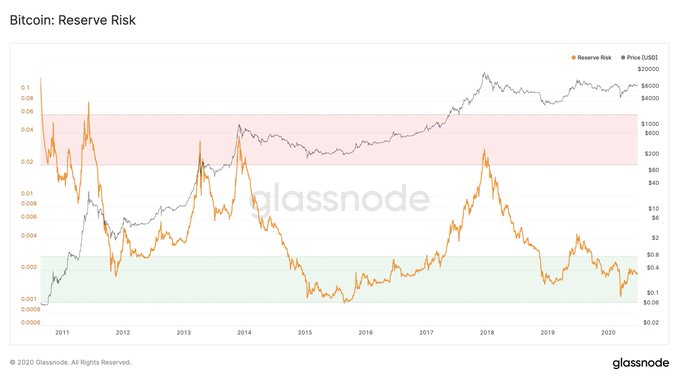 The above chart illustrated that Reserve Risk for Bitcoin has been low as well over the course of 2020, which suggested that investors had an attractive risk/reward ratio on their hands. In fact, Kraft added that in 2020, the Hodler Net Position Change has been negative for only 16 days out of a possible 178 days, which indicated that users have released more than accumulated for only 16 odd days.
With the Median Spent Output Lifespan decreasing since 2018, the average age of Bitcoin being last moved on-chain has also reduced.
Has Bitcoin Hodling been dominant only in 2020?
Now although the hodling sentiment has been more evident in 2020, it is important to note that the idea of Bitcoin being more a store-of-value asset has grown since 2016.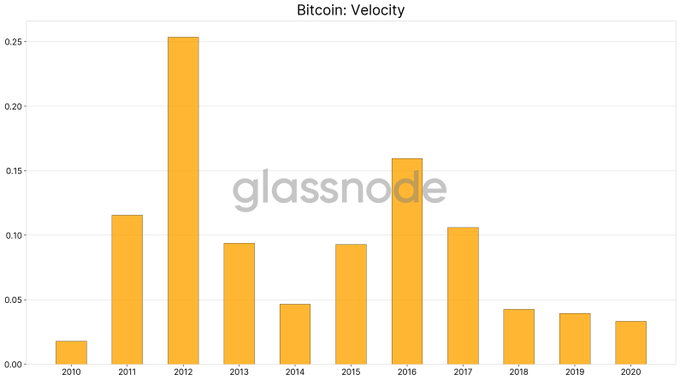 A prime example is a decrease in off-chain BTC velocity and an increase in on-chain movement. Decreasing off-chain velocity meant that BTC was rarely being used to acquire goods and services while increasing on-chain suggested movement was restricted exchanges itself.
Hence, the idea of Bitcoin being used as a mode of speculation has been strong over the past 4 years itself, with fewer users using the asset for utility functions.