It seems like the time is ticking for bitcoin. The largest digital asset is currently at the top of its recovery after the initial collapse in September, but the majority of the altcoins have been struggling to keep pace. Usually, that would be a positive sign for Bitcoin, but the market sentiment indicated that the price seemed to be at the top of a drawdown any minute in the current charts.
Santiment, a cryptocurrency analytics platform indicated that Bitcoin's Social Sentiment score is at an all-time low at the moment.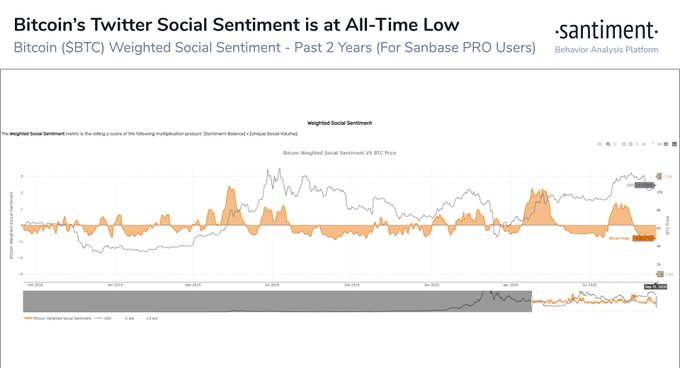 Data exhibited that Bitcoin crossed the threshold at $11,000 for the first time yesterday since it collapsed on 2nd September. However, on the Social Media Platform, Twitter, its userbase was exhibiting the lowest positive sentiment for Bitcoin over the last 2 years. The calculation was done taking into account, the total overall volume for Bitcoin mentions, comparing that with positive and negative commentary.
The marker sentiment of the Option Traders did not seem exactly bullish as well.
As witnessed a majority of the Option contracts were tied with Put Sells narrative, where the price expectancy by 25th September was in the range of $8000-$9000. While 674 Call Buy contracts were hopeful for a $12,000 re-test on 18th September(tomorrow) the chances were extremely bleak keeping the short term in mind.
However, if the short-term bearish period can be ignored for a brief, a particular model suggests that Bitcoin's price might go up as high as $30,000 by the time 2020 is concluded.
Stock-to-Flow projections: Bitcoin above $30,000 by December 31st?
A recent glassnode chart had suggested that the Stock-to-Flow Deflection had reached a 5-month low of 0.596. It signified that Bitcoin is strongly undervalued at the moment and that price is eventually going to pick according to the Stock-to-Flow model.
Now, considering the trend of Stock to Flow has held pretty strong since the start of last year, according to the model, it seemed that the current price drop would a minor detour before the bullish rally picks up during the final quarter of 2020.
According to S2F projections, Bitcoin's price is supposed to cross $50,000 by May 2021, and trade close or above $70,000 by the 2021 rolls in.
Keeping in the track of the model, it was pictured that Bitcoin will be valued at $31,064 on 31st December 2020. That is a huge prediction considering Bitcoin is over $20,000 behind the projection at present time.
While Bitcoin has definitely lagged behind the actual S2F model in the past, the minimum value of Bitcoin is $18,000 in order to avoid the invalidation of the S2F model.