The spotlight continues to be on Ethereum, as August is turning out to be an extremely price lucrative month for the largest altcoin. Since 1st August, Ethereum was registered all-time highs of three occasions, going step by step from $400 to $425 to $443. Although after clocking in $443, the asset has faced corrections, the overall trend remains extremely bullish right now.
With respect to metrics as well, Ethereum's fundamentals haven't shied away from new heights. After registering a 20-month high hashrate in the charts, while transaction fees continued to run riots, Ethereum's daily transaction count is now nearing an all-time high as well.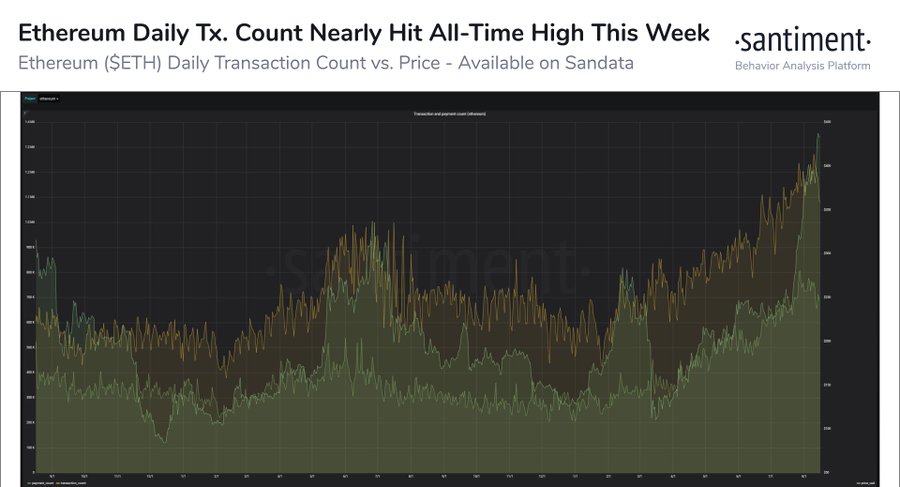 According to Santiment's recent data, the daily transaction count of Ethereum's network is quite close to its all-time high in the charts. Back during the rally of late December 2017, on January 4th, 201 when Ethereum mustered a valuation close to $1042 the daily transaction count reached a high of 1.34 million addresses, and earlier this week, the count was closing at 1.27 million.
Additionally, the current transaction fee levied on Ethereum also clocked in two all-time highs in a row, with fees of 17.8k on 8th August, and 20.3k on 13th August. All the above data typically suggest high user activity but the truth might be something else well.
DeFi is inflating the system, not user activity?
As reported earlier, Ethereum's active addresses are falling down the levels day by day when other metrics such as hashrate, miner revenue, and ether fees are going up.
That is largely contradictory in terms of equating a fixed factor on why Ethereum's network is so over-utilized.
With a doubt, DeFi's role is huge. Many are suggesting that Ether's price growth is due to the explosive expansion of DeFi, as the protocols are leading the charts in terms of token transactions, interacting with other dApps, and the Ethereum network itself.
Ethereum options; the only clean sign of user activity?
Now, even though there is substantial doubt about the authentic user activity in Ehtereum's network, the Open-Interest on Deribit exchange suggests that Ethereum is still a pretty sort out asset from an investment perspective. In a short time, from May 2020 to August 2020, Deribit's ETH OI was risen by $200 million, and despite the congestion in the network, Ethereum's continues to maintain a favorable stance with the investors.