In 2020, Ethereum made a name for itself to surprise the community when they least expected a breakout.
On July 21, when Ethereum surged over $170, rising from $230 to $400, ETH proponents were on the verge of believing that anything could happen now. However, people in the crypto space tend to forget about the rally, and over the last 12 days, there has been enough speculation that the ETH rally has been done and dusted.
The largest altcoin managed to pull the rabbit out of the hat, yet again.
Witnessing a surge of 13.10 percent in the last 24-hours, Ethereum went passed its resistance at $400, attaining a high of $433. Right now, the valuation of Ether is at $425 as the altcoin is exhibiting consolidation.
While the Ethereum community rejoiced over the recent rally, metric-wise a lot was going in the network, which was not necessarily positive for the asset.
Ethereum hashrate on a 20-month High; but Daily Active Addresses low
Painting a picture of extreme contraction, it began with Ethereum clocking in a record hashrate of over 201 million GH/s, its highest network rate since mid-July 2018. Now, the increasing hashrate is a notable sign that the network is being used more and more, and activity should be reaching sky-high levels.
A similar picture was created by the miner revenue, which attained its highest ever levels in Ethereum's history. ETH miners were earning a profit of 18% on a 30-day average, which indicated the development of the space.
However, Santiment's chart pictured the extreme opposite of high user involvement.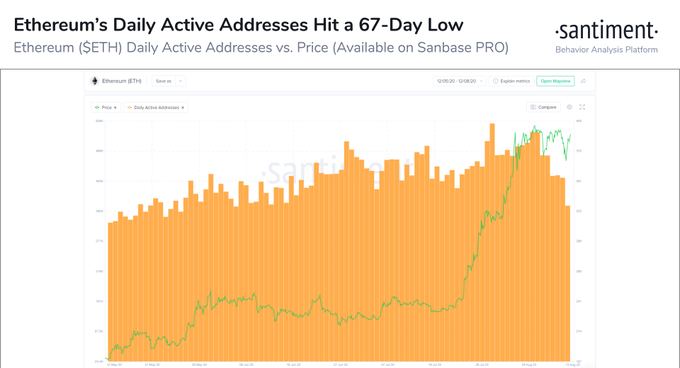 The chart is a clear explanation that Ethereum's network is not what it seems at the moment. According to the bar graph, Ethereum's daily active addresses are on a 67-day low at the moment, recording only 350,000 addresses on 12th August. The network recorded such a low number back on June 7th, when ETH was priced under $250.
After the recent price surge, Santiment expressed its surprise as well. The analytics platform suggested,
🚀 Just a day after making a two-month low in address activity and fears of soaring fees, $ETH has defied the short-term fundamental concerns and soared to a 2-year high of $430! #Ethereum traders are rejoicing on sky-high social volume levels as well. 🎉 https://t.co/cRgCgaw4it pic.twitter.com/mndWglPl0T

— Santiment (@santimentfeed) August 13, 2020
Hence, it can be speculated that even though prices are soaring for Ethereum at the moment, they are legitimate holes in the network that does not match price development with ecosystem growth. On paper, Ethereum is undoubtedly the 2nd best crypto asset out there, however, the situation behind the curtains might be a little worse than expected.