The last 7 days in July was extremely positive for the price values of Bitcoin and Ethereum, as both virtual currencies improved by 23 and 45 per cent respectively. Ethereum has moved above $400 to its highest point in 2020 and the overall improvement in the ecosystem has had an impact on Deribit's options market.
Deribit released its Institutional Newsletter recently and the derivatives exchange expressed that July was one of the best months in 2020 from an options volume.
According to the newsletter, the total options volume resulted during the previous month eclipsed everything in the past, as the total turnover clocked in at a whopping $4.3 billion. It was a massive 52 percent jumped from June 2020 for Deribit.
Official numbers indicated that 380,804 BTC options contracts were traded, rising by 44% versus June 2020 and for Ethereum options, the number clocked in was around 1,878,361 contracts; spiking by 41% since June 2020.
The report further added,
"The total Options OI on Deribit was up 37% vs. June, with an impressive 90% growth in ETH. However, BTC growth did not slow down either, increasing by 31% vs. Q2 expiry. Altogether a new Options OI record was reached with more than USD 2.01 billion worth of contracts open right before the expiry."
In terms of total turnover from USD development, over $10.7 billion in July was witnessed jumping by 17% from June 2020.
The relative improvement of the derivatives market is a prime example of the improving interest in the crypto market. Traditional traders and accredited investors were getting drawn towards investment products involving Bitcoin and Ethereum, in order to gain substantial exposure.
However, Bakkt's Bitcoin exchange did not have the same fruitful experience in July 2020.
Bakkt Bitcoin Contracts dropped from 221 to 58
According to a recent Arcane Research tweet, the number of Bakkt Bitcoin futures contracts that were held in July crashed about 75% in July, which was the lowest amount recorded throughout 2020.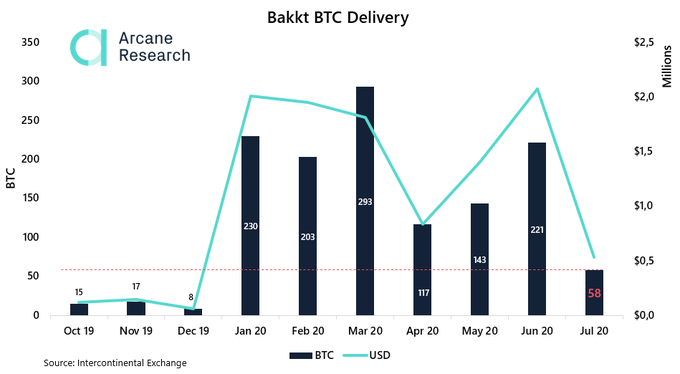 The above chart illustrated that the number of Bakkt bitcoin delivery contracts declined from 221 in June to a lowly 58 in July. June was extremely positive for Bakkt hence this comes across as a major setback for the ICE backed exchange.
However, in spite of misfortunes the previous month, It is evident from Skew data that Bakkt's Open-Interest is currently at an all-time high range of $25 million, which suggested that institutional investors were continuing to flood in the regulated exchange.