2020 will be largely known for the exploits of Chainlink at the top of the altcoin bracket. Valued under $2 in March 2020, the token rallied itself to a 10 times increase of $20 by August 2020. However, the view was top was short-lived as in the past couple of weeks, the turnaround has been largely bearish.
From the above trading view chart, the decline is fairly easy to identify as a drop of 44.73 percent since August 16th tarnished most of its good performance over the course of August 2020. Such a significant drop is currently causing changes elsewhere in Chainlink's ecosystem.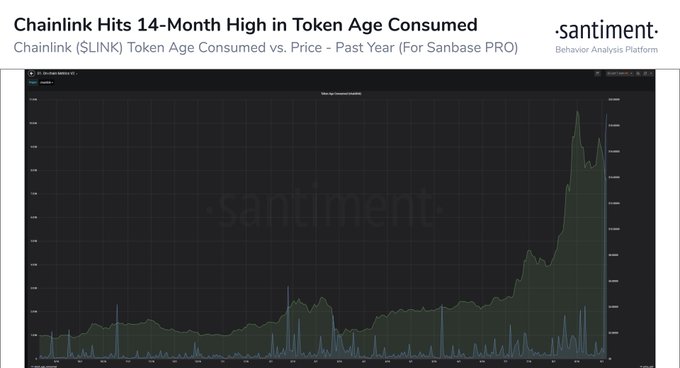 According to Santiments recent tweet, Chainlink exhibited its 14-monthly high with respect to token age consumed and such a change is in direct correlation with users exiting the market. When digital assets record a high in token age consumed, it can be assumed that the tokens are re-entering the market from user addresses.
What is next for Chainlink after its drastic decrease in value?
From a technical point of view, there were more alterations observed in terms of on-chain metrics. On 23rd August, Chainlink was observed to record an all-time high in terms of daily active addresses but the market statistics had changed now.
As illustrated by intotheblock analytics, the average number of active addresses had dropped from a high of 24,000 thousand addresses to a measly 8,500 addresses at the moment. This is a clear indication of the drop in network activity and in the long run, it can cause damage to Chainlink's growing reputation.
However, all of Chainlink's good work cannot be dismissed due to a week of declined activity. It is important to note that its valuation improves by 500% in 2020, and unless it topples down to $8 dollars, the overall trend is still significantly positive.
Additionally, the importance of its association with DeFi has to be taken in a serious note. The current pullback can be assumed as a timely correction that hardly dampens the interest with DeFi. When the digital asset class picks up pace in the market again, there is a strong chance Chainlink will recoup its high valuation range again.