Bitcoin has received a lot of support in the past couple of months. The largest crypto asset exhibited commendable resilience to recover from its losses on 12th-13th March. The asset currently consolidates above $9000 and the community was expecting it to cross $10,000 before the halving.
However, taking the attention away from its market performance, according to a recent report released by Rand Corporation, Bitcoin continued to be the most used crypto asset in the illicit dark web marketplace.
The study was commissioned in 2019 by the Electric Coin Company, the Parent organization of Zcash privacy coin. It was indicated that Zooko Wilcox, founder of Zcash did not approve of the common sentiment that Zcash is only tagged along with criminals, and he hired Rand Corporation to conduct an extensive study. The report which was released on May 6th stated that Zcash had a minor presence on the dark web and according to the think tank, the report mentioned,
"Zcash is seen as a less attractive option to dark web users and is used less often compared to other cryptocurrencies, particularly Bitcoin and Monero."
Rand corporation had highlighted that the study was conducted on the basis of three areas-money laundering, trade in illicit goods and services, and terrorism financing.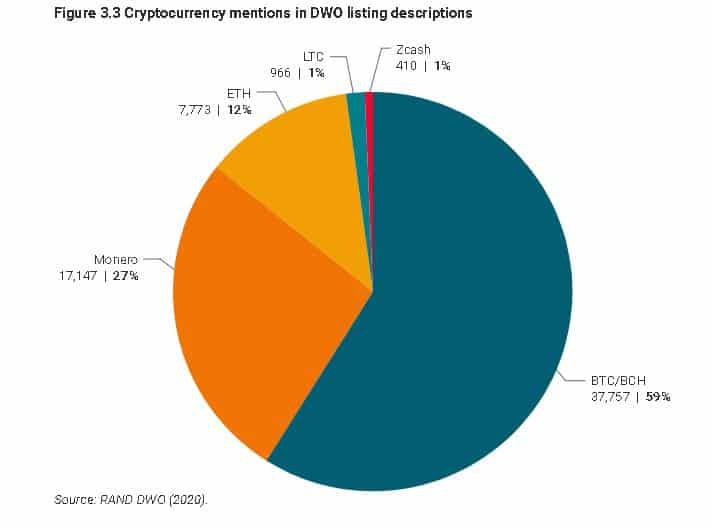 From the above distribution chart, it can be observed that Bitcoin/Bitcoin Cash is responsible for 59 percent of the illicit transactions, followed by Monero at 27 percent of the trade, 12 percent accept in Ethereum, and around 1 percent are Litecoin transactions.
Zcash was utilized in less than 1 percent of the illicit transactions and further examination revealed that a majority of the Zcash mentioned came from just three sellers, The Shop, Skyscraper, and Cyberzen.
The report concluded,
"Bitcoin is still perceived to be the dominant cryptocurrency for illicit or criminal activities on the dark web."
Past Report Conflict
Although the report completely pointed the finger at Bitcoin, emphasizing its involvement with the dark web marketplaces, some of the findings contradicted with past reports.
In 2018, a report was released by Europol that indicated that Zcash is particularly popular and preferred by ISIS, and towards the end of 2018, Chainalysis suggested a similar sentiment, underling the increasing popularity of Zcash on the darknet.
However, it is imperative to take note that whether Bitcoin or Zcash is more popular, the collective hike in involvement has been noticed in the overall digital asset space.
Bitcoin's popularity in the darknet may have remained since it was the first digital asset and a central part of Silk Road back in 2011.